We are so used to seeing Laura Dern in a gamine, wholesome and honest light through her career – including her more renowned roles including Dr. Ellie Satler in Jurassic Park, or Sandy Williams in Blue Velvet – that when she turns up as a sexually charged Lula in Wild At Heart or indeed, the long-awaited Diane in Twin Peaks: The Return it is with a jolt that you recall what a wonderfully versatile and engaging actress Dern really is.
The long-time Lynch collaborator gets the opportunity to really shine in this week's episode. Having dismissed Albert Rosenfield (Miguel Ferrer) – with a few "F— you's" for his trouble – at the end of last week, he returns with Gordon Cole by his side in an attempt to convince their former colleague to visit Evil Cooper and decipher whether he is, or isn't, the Agent Cooper of their past. Despite her initial resistance to the idea, Diane reveals that the last time she saw Cooper was 25 years ago and that he spent the night. The implications of this are clearly traumatic, given Diane's bristling resistance to the prospect of visiting her former boss, finding that resistance futile in conversing with Cole and later being plied with vodka by Albert on a flight to South Dakota (on which she told him to "F— off" once again yet drank it anyway), by which she has an implied problem. In all three instances, the initial impression of a self-assured and independent woman is whittled away by the male will of ghosts of her past. Her submission is sad and unnerving to watch, though none as much as the interaction with the dark doppelgänger himself.
Entering a dark room separated by a pane of glass, Diane lifted the shutter to see the face of Cooper for the first time in 25 years. The shadow of the interaction (assault?) of that night 25 years ago clearly still haunts Diane, who demands he look at her, and in gazing into his darkly vacuous eyes through the gloom it is clear that the spectre of the man she knew that she last encountered decades ago tells her all she needs to know. Furious and crying she storms out. She doesn't believe it is the real Cooper. She doesn't even think that it is a real man, and given Agent Tammy's (Chrysta Bell) discovery that Evil Coop's fingerprints are the same as on file, yet reversed, their suspicions are being solidified…
Following the FBI's visit, Evil Coop secures an audience with Warden Dwight Murphy, blackmailing him over his own dirty actions (including previous with that aforementioned Mr Strawberry) on the condition that he release Evil Coop in the dead on night with a car, a "friend" in the glove compartment and the treacherous Ray (an associate of Darla who Evil Coop smothered in episode 3 following discovery of hers and Ray's betrayal.) As they drive off it can be assumed that Ray's time is definitely ticking…
The contrast between "Coopers" is in wonderful display in this week's ep. Let's face it, we all need some Dougie innocence with an Evil Coop loose in the world. He is back at his desk at Lucky 7 Insurance when we encounter him, when his assistant Rhonda brings three police officers into his office who are investigating the triple thief inferno that took place in Dougie's car a few eps ago. Luckily, Janey-E (Naomi Watts) storms into the office before the detectives can prise any answers from Dougie, reprimanding their intrusion and investigation with some choice words before removing her husband from the building, informing him that she has paid off their loan sharks and avoided their ridiculous interest.
All of a sudden, the diminutive assassin emerges from the crowd and makes straight for Dougie and Janey-E, brandishing a gun. Dougie's Cooper instincts appear to take over: he gets in front of Janey-E and grabs the assassins wrist, forcing the gun down with an oddly robotic and inhuman strength. The gunman wails and the brain-tree form of The Arm appears, screeching "Squeeze his hand off! Squeeze his hand off!" Dougie gets the gunman to release the weapon, and we see that some of his flesh has torn off and is stuck to the gun. Janey-E clings to her hero whilst Dougie remains unaware before they are whisked off to be interviewed by police and the media. Will Cole and Albert turn on the news?
Back to Twin Peaks itself, and things are finally getting underway (let's be honest, it's felt like it's taken some time.) Hawk (Michael Horse) and Frank (Robert Forster) sit down to pore over the missing pages of Laura Palmer's diary, Hawk having found them in the door of a toilet cubicle. Three of the four were present, and they believe that Laura's father Leland must have planted them there after being brought in for questioning following her murder. The entries referenced moments in the Twin Peaks prequel film Fire Walk With Me, the first being that a projection of Annie Blackburn appeared to Laura in a dream, revealing that "the good Cooper" was trapped in the Black Lodge and  instructing her to record it in her diary. The second was Laura's realisation that BOB and Leland may have been of the same entity.
Names from the past have kept cropping up today, including Doc Will Hayward (portrayed by the late Warren Frost, father of show creator Mark Frost), who crops up in a Skype call to tell Frank that the last time he saw Cooper was when he was leaving the hospital room of a comatose Audrey Horne, who was being treated there after the explosion at the bank. He recalls the dead-eyed expression of what we know is the doppelgänger, and that Evil Coop spent a good hour in there with the sentient Audrey. Following from what has been implied of the doppelgängers relations with Diane, plus the current unknown status of the father of what is most likely to be Audrey's son and somewhat crazed individual, Richard Horne, it can be questioned as to whether Richard was conceived via the rape of Audrey by Cooper? It is a dark angle that none predicted and hopefully will not come to pass…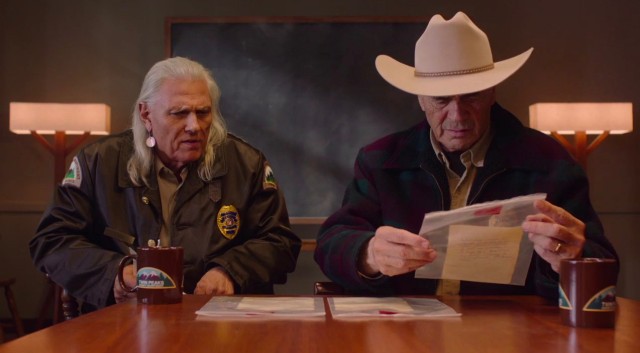 Also this week…
Talking of Richard Horne, Andy is tasked with investigating the hit and run of the child in the town (in his predictably scatterbrained manner.) The truck was registered to another man who convinces Andy that he will tell all if he meets him elsewhere… He doesn't show, and some ominous shots imply that his fate is not for the better.
Frank has a phone call with everyone's favourite and much missed Sheriff Harry Truman. His brother reveals that he is now hospitalised as his health continues to go downhill and Frank decides not to probe into the Laura Palmer case for sake of unsettling him. "Harry, do me a favour," he states. "Beat this thing."
Cooper's antique hotel room key for the Great Northern Hotel makes it to the desk of Benjamin Horne, who is quizzical of its return.
And the headless body in the morgue in South Dakota turns out to not be that of Major Briggs, because the ages don't match. The body is that of a 40-something male, but Briggs in this year would easily be in his 70s, which knocks Lt. Cynthia Knox (sorry) for six. Oh, and the eerie entity known as The Charred Man is stalking the hospitals halls.
What is The Charred Man looking for, and what can the Sheriff's department deduce from the new information on the Laura Palmer case? Will Dougie be attacked again? And will Gordon and Albert see the real Cooper on the news? Til next time…